eimo-07-085-what did you do for golden week
Holiday in Vietnam: Part #1 /6
Day #085 :-
@BYOD/PAQAA Kombo aka
Build Your Own Dialogue & Practise Asking Questions And Answers
Not nearly enough people ask enough Questions. Practise a 4 part Q & A dialogue and create a paradigm for it. 
From BYOD4US #21: Conversations with College Students
Topic: What Did You Do On Your Last Semester Break. 
Practice asking someone about: 
what they did for their last holiday;
how  they got there;
who they went with; and
where they stayed.
Practise being Creative! Learn to be Silly!
Two of the keys to deep learning  !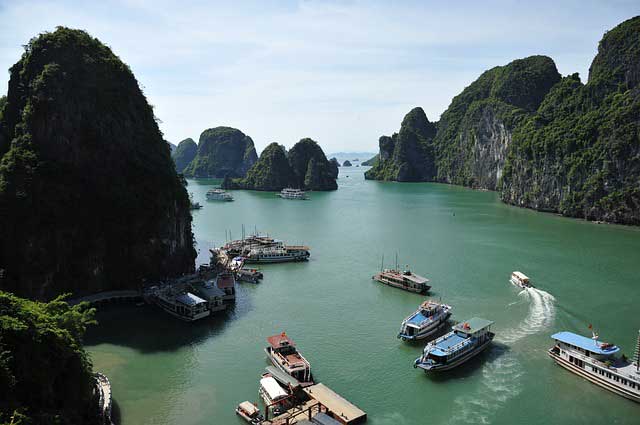 Activity #01
Practice Asking Questions 
紹介/やり方/説明ビデオを必ずご覧ください。
簡単で効果的な方法が3つあるので、3つ全て実行することをお勧めします。
1)質問と回答を聴いてから、録音機能を使って質問の部分を繰り返し、ダウンロードしましょう。
2)質問と回答を聴いてから、録音機能を使って回答の部分を繰り返し、ダウンロードしましょう。
3)質問と回答を聴いてから、それに自分の意見で答えましょう。録音し、ダウンロードしましょう。
おおよその時間:10分間
//
Please make sure you have watched the introductory/how to/ explainer video
There are 3 easy but powerful things you can do and I suggest you do all 3.
1) Listen to the Qs & As then repeat Qs using the recording function. Download.
2) Listen to the Qs & As then repeat the As given using the recording function. Download.
3) Listen to the Qs & As then give your own answers. Record and Download.
Approx. duration: 10 Min 
Click "今すぐ開始" button to start now
「Start Now」ボタンをクリックして今すぐ開始
@TAT aka
Transcript And Translation
Transcript provided by GoogleTranslate. 'Hmm…!' You get the gist. Bad Japanese is all you need.
Q1最後の学期の休憩で何をしましたか?
A1ベトナムの南に行きました
Q2どうやってそこにたどり着きましたか?
A2エアエムを飛ばしました。 もちろんファーストクラス。
Q3誰と一緒に行きましたか?
A3 ガールフレンドのサマンサと一緒に行きました ………. 私たちは幼稚園から一緒にいます。
Q4どこに泊まりましたか?
A4クライアントのホテルに泊まりました。 シャーク湾近くの5つ星のビーチフロントリゾートです。
Q1 What did you do on your last Semester break?
A1 I went to the south of Vietnam
Q2 How did you get there?
A2 We flew Air Emu. First class of course.
Q3 Who did you go with?
A3 I went with my girlfriend Samantha. ………. .  We've been together since kindergarten.
Q4 Where did you stay?
A4 We stayed at the hotel of one of my clients. It's a five-star beachfront resort near Shark Bay.