eimo-08-105 rest day with comedy
Day #105
How to Save The World
Day #105 @Rest Day with A Little Political Comedy.
Enjoy this short excerpt* featuring George Carlin, one of America's favorite Stand Up Comics.
He is in fine form here taking on those who think they can save the world.
If you have trouble understanding it, even with the English subtitles, scroll down for the Japanese translation.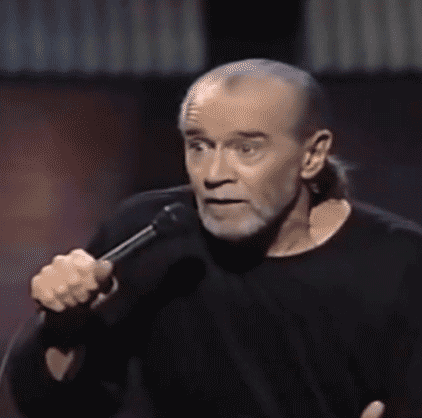 Activity1 @WTV
Watch The Video
Activity@TAT aka
Transcript And Translation
Translation  courtesy of Google
————————————————–
A A

See I'm not one of those people who's worried about everything.
私はすべてを心配している人の一人ではないのを見てください。

You've got people like this around you.
あなたの周りにはこのような人々がいます。

Country's full of them now. People walking around all day long.
国は今それらでいっぱいです。一日中歩き回っている人。

every minute of the day, worried about everything.
一日の毎分、すべてを心配しました。

Worried about the air, worried about the water,
空気が気になり、水が気になり、

worried about the soil, worried about insecticides,
土が気になり、殺虫剤が気になり、

pesticides, food additives, carcinogens, worried about radon gas,
農薬、食品添加物、発がん性物質、ラドンガスが心配、

worried about asbestos, worried about saving endangered species.
アスベストを心配し、絶滅危惧種を救うことを心配しました。

Let me tell you about endangered species, all right.
絶滅危惧種についてお話ししましょう。

Saving endangered species is just one more arrogant attempt by humans to control nature.
絶滅危惧種を救うことは、人間が自然を支配しようとするもう1つの傲慢な試みです。

It's arrogant meddling. It's what got us in trouble in the first place.
それは傲慢な干渉です。そもそもそれが私たちを困らせたのです。

Doesn't anybody understand that?
誰もそれを理解していませんか?

Interfering with nature.
自然に干渉する。

B B

Over 90%. More than that. Way over 90% of all the species that have ever lived on this planet,
90%以上。それ以上。この惑星にこれまで住んでいたすべての種の90%以上、

ever lived… are gone. Phooooof! They're extinct.
これまで生きてきた…なくなった。 Phooooof!彼らは絶滅しています。

We didn't kill them all. They just disappeared.
私たちは彼ら全員を殺したわけではありません。彼らはちょうど消えました。

That's what nature does. They disappear these days
それは自然がすることです。最近は消えます

at the rate of 25 a day. And I mean,
1日25の割合で。つまり、

regardless of our behavior, irrespective of how we act on this planet,
私たちの行動に関係なく、私たちがこの惑星でどのように行動するかに関係なく、

25 species that were here today
今日ここにいた25種

will be gone tomorrow. Let them go gracefully.
明日はなくなります。それらを優雅に行かせてください。

Leave nature alone. Haven't we done enough?
自然を放っておいてください。十分にやりませんでしたか?

C C

We're so self important, so self important.
私たちはとても自己重要で、とても自己重要です。

Everybody's going to save something now. Save the trees,
誰もが今何かを保存するつもりです。木を保存し​​、

save the bees, save the whales, save those snails.
ミツバチを救い、クジラを救い、カタツムリを救いなさい。

And the greatest arrogance of all?
そして、すべての中で最大の傲慢?

Save the planet. What!!! Are these fucking people kidding me?
惑星を救え。何!!!これらのクソの人々は私をからかっていますか?

Save the planet? We don't even know how to take care of ourselves yet.
惑星を救う?私たちはまだ自分の世話をする方法さえ知りません。

We haven't learned how to care for one another.
私たちはお互いを気遣う方法を学びませんでした。

We're going to save the fuckin' planet.
ファッキンプラネットを救うつもりです。

I'm getting tired of that shit.
私はそのたわごとにうんざりしています。

Tired of that shit, tired.
そのたわごとにうんざり、うんざり。

I'm tired of fucking Earth Day.
私はアースデイをクソするのにうんざりしています。

D D
I'm tired of these self-righteous environmentalists, these white bourgeois liberals who think
私はこれらの自己正義の環境保護主義者、考えるこれらの白いブルジョア自由主義者にうんざりしています

the only thing wrong with this country is there aren't enough bicycle paths.
この国の唯一の問題は、十分な自転車道がないことです。

People trying to make the world safe for their Volvos.
ボルボのために世界を安全にしようとしている人々。

Besides, environmentalists don't give a shit about the planet.
その上、環境保護論者は地球についてたわごとをしません。

They don't care about the planet.
彼らは惑星を気にしません。

Not in the abstract, they don't.
抽象的ではありません、彼らはそうではありません。

Not in the abstract, they don't,
抽象的ではありません、彼らはそうではありません、
You know what they're interested in? A clean place to live.
彼らが何に興味を持っているか知っていますか?住むのにきれいな場所。

Their own habitat. They're worried that someday in the future they might be personally inconvenienced.
彼ら自身の生息地。彼らは、将来、個人的に不便を感じるかもしれないと心配しています。

Narrow, unenlightened self-interest doesn't impress me.
狭く、啓発されていない自己利益は私に感銘を与えません。
#wtvaatq #paq #paqaga #FirstWasabiExperience